We had paint crews in several locations in Detroit while working on the movie, 8 Mile staring Eminem.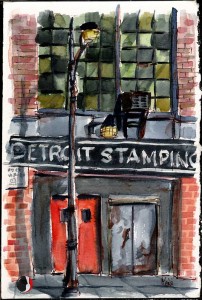 During the time the Detroit Stamping Plant was being prepped for filming, I was working in a trailer park located on 8 Mile Road, which was the dividing line of the have's from the have-nots. One of my co-workers told me that he thought I would enjoy painting it. Unfortunately, the only time I saw the location was the time we stopped by the plant at the end of a work day to pick up the crew working there.
I sat in the back seat of our crew cab and did the pen & ink sketch in the few minutes it took the crew to load their tools and equipment. I did the watercolor from memory when we returned to our hotel.